Skip to Content
#1 Dealer of Hi-Tide Boat Lifts in North Palm Beach and Surrounding Areas
As the number-one dealer of Hi-Tide boat lifts in North Palm Beach and surrounding areas, we sell the best lifts in the business. Hi-Tide boat lifts are proudly manufactured in the USA in Fort Pierce, FL. The boat lifts we sell are safe, dependable, and easy-to-use. We can create a customized boat lift for any of your watercraft. Whether you're looking for an elevator lift or a topless lift that can hoist 1,500 lbs for a jet ski up to 180,000 lbs for a mega-yacht, we have a boat lift for you. We provide premier boat lift installation, maintenance, and repairs. We can also do custom watercraft lifts for jet skis, paddleboards, kayaks, and more. For any of your boat lift needs, call Marine Construction Inc.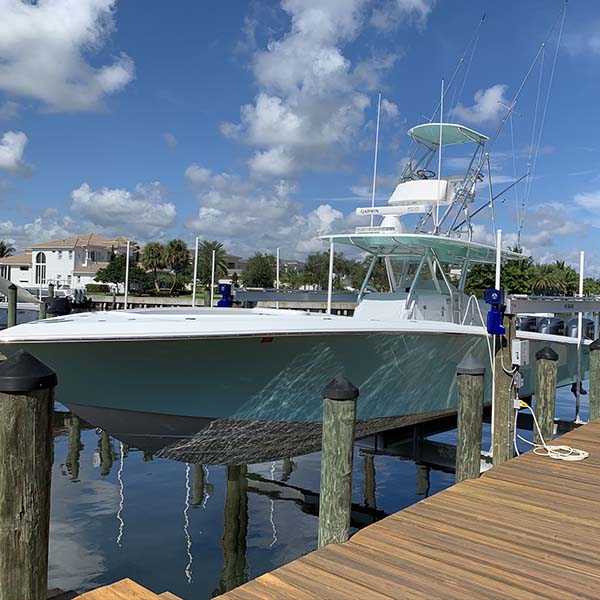 More About Hi-Tide Boat Lifts
Hi-Tide, a pioneer in the boat lift industry, was one of the first manufacturers to design a product entirely of corrosion-resistant aluminum made specifically for the marine environment. Hi-Tide also freed boaters from the antiquated flat-plate drive system and developed a patented, often imitated Gear Drive gearbox.
The clarity of vision to develop a product that keeps your boat hull maintenance-free and provides a boat lift that guarantees years of maintenance-free service solidifies Hi-Tide as a leader in the boat lift industry. Marine Construction Inc is proud to be the number-one dealer of Hi-Tide boat lifts in Palm Beach County and Martin County.
We'll Build You a Boat Lift That Will Last
When you work with the professional team at Marine Construction Inc, you'll be able to choose just what type of boat lift you want. From manual and electric to floating, free-standing, overhead, and more, we provide our valued customers with a wide range of options. If you feel like your property and general lifestyle could greatly benefit from a state-of-the-art, customized boat lift, get in touch with our professionals today. Marine Construction Inc is always ready and willing to enhance people's lives with high-quality marine construction services.
Your Premier Marine Contractor